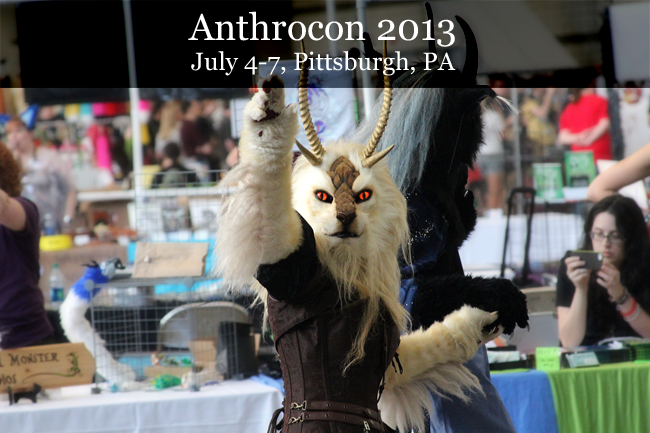 I just got back from Pittsburgh and one of the most fun conventions ever! Anthrocon is a "furry" convention, aimed at fans of walking and talking animals in every imaginable form of media; it is attended by artists, costumers, authors, musicians, and plenty of other creative folks. This was my fifth year attending as a working artist but my first year out in the Dealer's Room with a paid, weekend-long table instead of the Artist's Alley where seats are free but distributed by daily lottery.  I also participated in the Art Show with nine pieces hanging and had an image printed in the con book. It might look and sound like business – and with months of prep completed ahead of this con, it undoubtedly is – but Anthrocon is nothing if not a load of fun, even when busily making commissions and selling art. I wouldn't miss it for the world any year.
A note to avoid confusion: at conventions like this, I and many other attendees are known by friends and fans under nicknames or chosen titles other than our birth names. I am referred to as "Nyomi Naomh" in convention material and others' reports; here, I will note others' names as I know them or feel is most appropriate.
Wednesday, July 3rd
Wednesday is for traveling! I departed Philadelphia in the morning with Susan (a friend and one of my roommates for the con) and we arrived in Pittsburgh in the late afternoon, where we was greeted by a small horde of friends at the main hotel. I settled in and located more friends until nearly everyone was accounted for; then we enjoyed dinner and drinks together in small groups. The fun ramped up in the streets around the convention center as the sun went down, and before long, I was bumping into further familiar faces at every turn. I spoke briefly with Amber "Miss Mab" Williams, author-artist of popular webcomic DMFA, and her friend, Damaris. Outside the the bar, Susan and I ran into Goldeen "Agent Elrond" (or "Rondie") Ogawa, who is both a prolific creative mind and a delightful human being responsible for a great variety of written and illustrated material. We talked, laughed, took ridiculous pictures, and made lunch plans.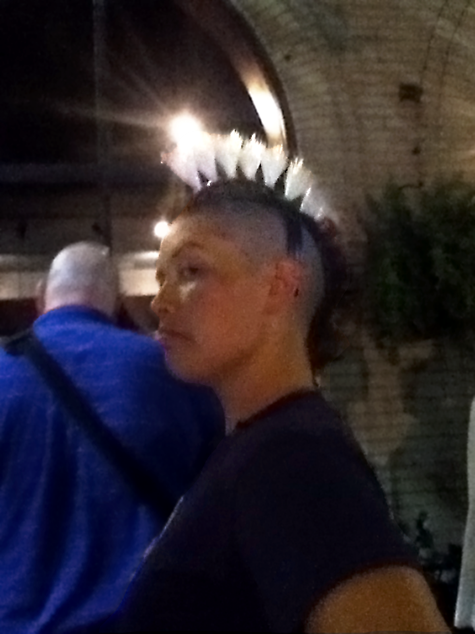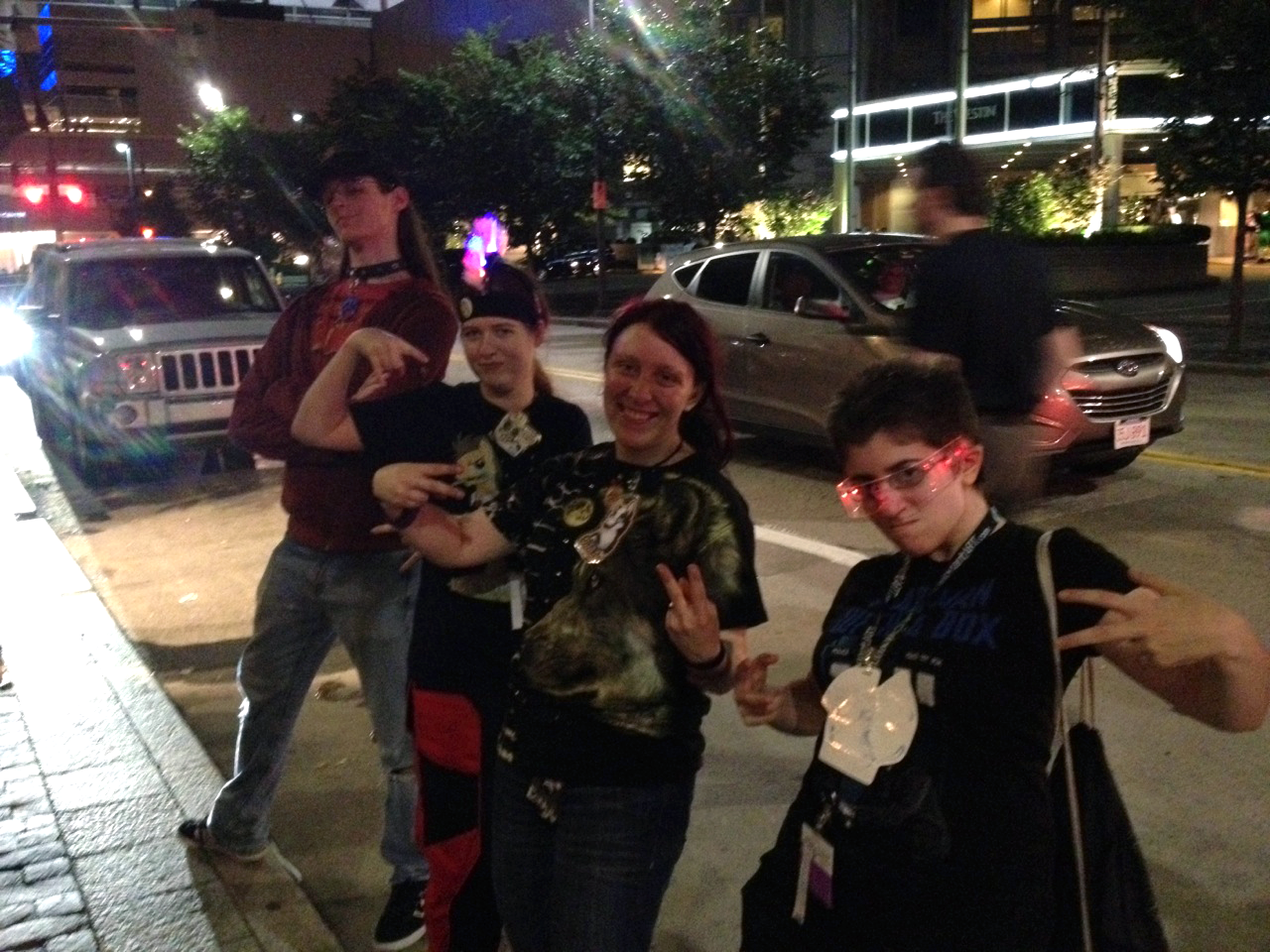 Left: Rondie stacks a fiber-optic mohawk on top of her real one.
Right: "Scribbledragon," Susan, Onai, and me (photo credit Rondie, "Report: AnthroCon 2013").
Thursday, July 4th
Thursday is a sort of semi-official social day during Anthrocon, when most people arrive by the end of the day and gatherings abound but vendors and panels are not yet open. Registration and badge pick-up opened early for regular attendees, though dealers had to wait until at least noon. In the meantime, I sat with a multitude of friends and artists in the "Zoo" – a large ballroom converted during Anthrocon into a massive social space – to draw, hang out, and plan for the rest of the convention.
Around this time, Kittiara came by with beautiful badges that Rondie, Susan, and I had commissioned from her of our personal characters. They look great just as digital scans, but the gold foil has to be seen to be believed.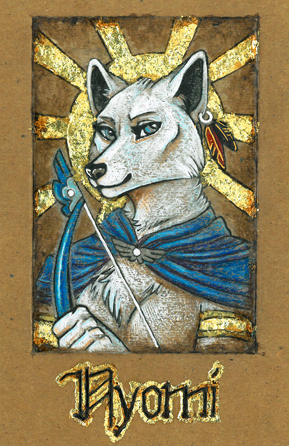 "Nyomi" Byzantine badge by Kittiara.
Susan left our group long enough to get in costume and returned as the gorgeous "Mingchun," originally built by Qarrezel of Clockwork Creature costumes as the "Sun Dragon." She has performed this character in a variety of outfits over the years, including high fantasy-esque gear, but decided to go with a cute dress this time around. Rondie also got the opportunity to try on some of the Mingchun costume, which gave the dragon a very different spin; you can check out her take on Mingchun in her report.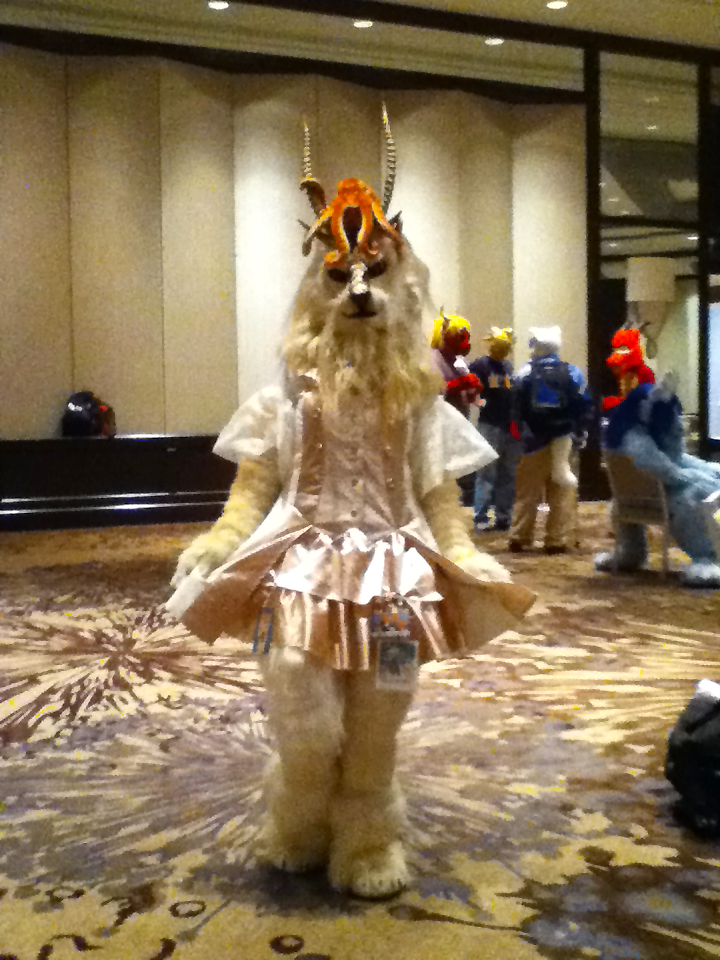 Susan as "Mingchun" with Rondie's octopus, Sally, on her head.
Eventually, 3pm rolled around and the convention center Teamsters came on duty, allowing Rondie and I to not only pick up our registration but head down to Dealer setup with our rolling bags. I wrestled with my tablecloth and wire cube panels but eventually got everything just right. After taking my bag and remaining gear back up to my room, I had dinner with friends and went to see the fireworks over the Allegheny. The main show was accented not only by stray fireworks set off from residences across the river but also by lightning bolts from a thunderstorm that struck simultaneously. Once it wrapped up, I went to the Thursday dances with a few friends but eventually decided to retire so I'd be ready for my first day of dealing in the morning.
Friday, July 5th

Friday morning was a familiar scramble to shower, dress, eat, and get down to Hall B in record time, though this year, I had the benefit of a permanent table already set up and the added task of hanging art in the Art Show before the first wave of shoppers were allowed into the Dealer's Room. I ended up needing a little help to get my pieces onto the panels because I was just a bit too short to reach the top, and attempting to stand on a chair led to a startling reminder that some folding chairs will fold up on you if given the chance. Once finished, I ran back to my table and worked on a badge order until opening.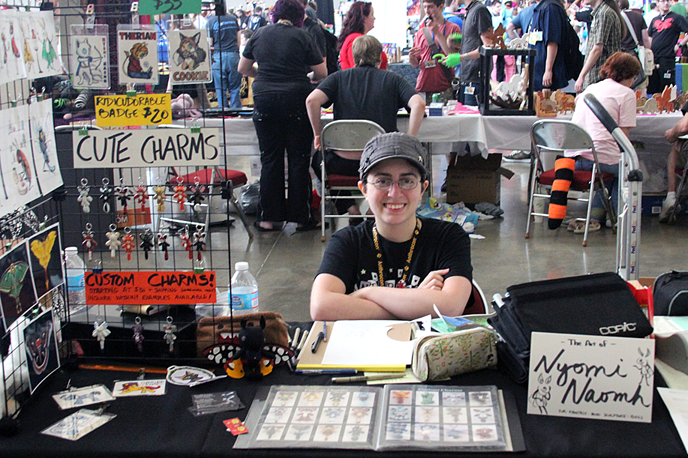 Me at my table, shortly after opening.
The first few hours of Friday are always the busiest – commissioners rush to get sketches or badges from their favorite artists before they fill up for the day or even the weekend. I booked a whole list of badges and had to close slots for the con before I knew it! I did accept a few take-home commissions, but sales after that were mostly charms and prints. "A Toast to Light" did especially well; I ran out of prints of it on Saturday.
Although pretty much any convention has an official badge showing purchase of membership and allowing admittance to events, attendees of furry conventions like to get artist badges done of their characters, often consisting of a bust and name that's either laminated or put in a plastic holder for protection while being worn. They can be done in any medium, but I usually do mine with Copic art markers. I offered three types this year: the "Ridicudorable," a full-body character in a cute, simple style; the "Portrait," a medium-sized bust in a decorative oval frame; and the "Mixed Media," a larger bust badge with an atmospheric watercolor background. Ridicudorable badges were the most popular.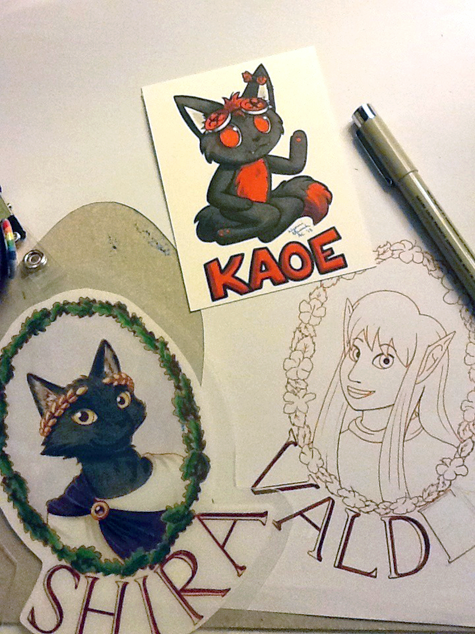 Two Portrait badges and one Ridicudorable badge that I worked on.
Being in the Dealer's Room this year was an interesting experience. For one, it put me in shouting distance of quite a few artists I've admired, worked with, or become friends with over the years, including Amber/"Miss Mab," Angrboda, and Rondie. I associated with them and several others many times throughout the con, in and out of the Dealer's Room. I was also approached by a Japanese gentleman for whom I'd made a badge last year. He presented me with a towel on which he'd embroidered the image I drew of his character! Near the end of the sales day, a staff member came by to pick up a sketch I'd done of him on the Anthrocon forums earlier in the year. Lots of people took my card, said they recognized my work, or complimented me on my pieces in the Art Show. Keys, Autumn, Kiry, Shira, and other friends helped me out by getting me food or drink or watching my table when I needed a quick break.
I spent most of the post-sales hours on Friday working on badges and spending time with friends. I know I ate dinner at some point, and I must have gone to bed because that's where I woke up the next day.
Saturday, July 6th
Business quieted down a bit on Saturday, but I've come to expect this from Anthrocon; I worked on badge orders, turned over finished ones to commissioners who came by, and sold more prints and charms. In the afternoon, I swung by Rondie's table to ask if she was going to Matthew Ebel's concert at 4pm. I had been unable to get to Further Confusion earlier in the year when he performed an entire album set to the Hitchhiker's Guide to the Galaxy film, and I was determined not to miss his Anthrocon show. Rondie said she intended to go (and did), so I returned to my table to keep working until then – but not before stopping by Amber/"Miss Mab"'s table and buying a couple of the original pencils and inks of her comics!
The fursuit parade, a showcase of the convention's many and varied animal-people costumes, came marching through the Dealer's Room and kept going for about half an hour. I'm told the total number of costumers this year was somewhere around 1,300.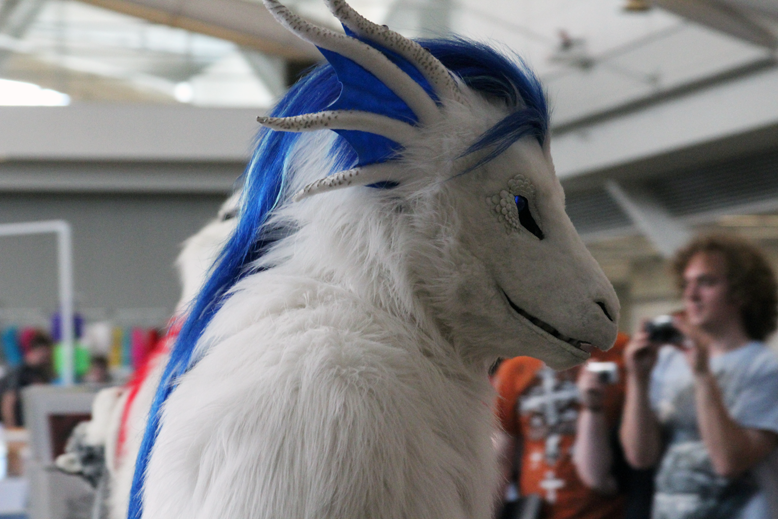 Rooth'ragon, made by Clockwork Creature and performed by Rooth.
At 4pm sharp, I ducked out of the Dealer's Room and ran up to the Spirit of Pittsburgh ballroom for Matt's concert. After a few songs, I made myself get up and join the small crowd of dancers at the front – it was too hard sitting still to all the upbeat songs! Everyone sat down in solemn silence, though, during "Prayer For Danny." I had to leave just before the end of the show, but everything I saw and heard was wonderful.

Matthew Ebel performing "Drive Away."
I worked the remaining time in the Dealer's Room, closed up shop for the night, dropped my supplies off in my room, and made it back to the convention center in time for Kage's Story Hour. This show is a series of true (if slightly embellished) stories told by Dr. Samuel Conway, or "Uncle Kage," the chairman of Anthrocon. Kage opened with a silent performance involving wine and a large glass, then regaled the audience with the misfortunes of his hat, adventures with the police and the Anthrocon rental truck, tales of working emergency rescue, and a salute to a furry fan who was an EMT and recently died during an accident in his ambulance at the age of 24. By the end, everyone was standing and applauding.
I spent a little time in the Zoo at an art jam and then went to another table with other friends. Someone dressed as Ezio from Assassin's Creed came by, and a couple people lined up behind him with folded hands as monks apparently do in the game. I joined in! The line must have surpassed twenty people and gone halfway around the room before Ezio finally noticed we were there. The first follower behind him mimed a deathblow to Ezio as punishment for his poor awareness of his surroundings.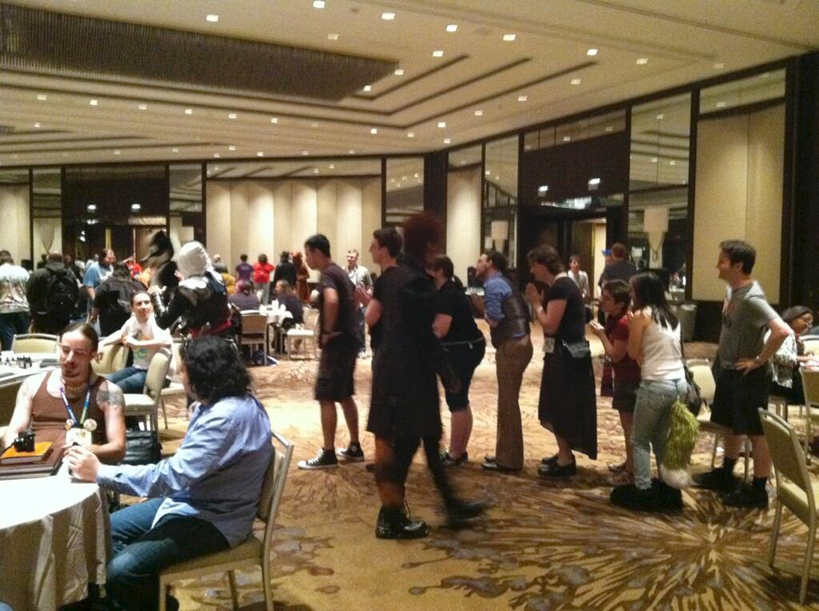 Nine people, and he hasn't noticed yet (photo credit Therian).
As if that wasn't enough excitement, I attended Renard's dance set at 1 am – the fastest, bounciest, wackiest, and best dance of the whole con. I worked my way from the back of the crowd to the front at the bottom of the stage over the course of the hour, jumping and headbanging and flailing among the sea of bodies and glowsticks and waves of throbbing bass. It was phenomenal. I don't know how he does it.
Sunday, July 7
Action was slow in the Dealer's Room, so after a few print sales and badge commission pick-ups, I decided to close up a little early and disassemble my table so I'd have a little time to actually enjoy lunch and do some shopping before the end of the con. I bought a cute zine from J. M. "Quaggy" Lones, got a hand-drawn bookmark from Rondie, and picked up a few things from Matthew Ebel. After the Art Show closed up bids for the con, I retrieved my pieces from the panels; "The Scarab Potter" was sold!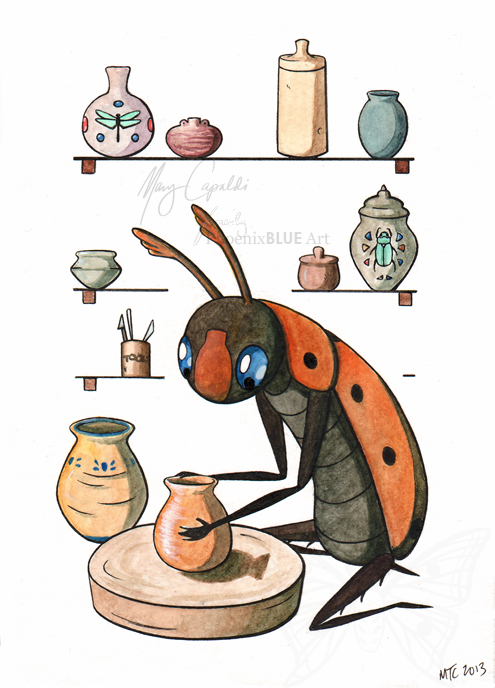 "The Scarab Potter" – original art sold!
Closing ceremonies had the effect it usually does – it offered some closure but also signaled the official time to be sad because I'd be saying goodbye to everyone soon. Even so, Rondie somehow managed to gather up a whole bunch of friends (which, at a convention, is like herding cats) to go out to eat together. It was dubbed "Dinnercon" and was the first time I ever had Indian food or got to talk to a few fascinating people I hope to know better in the future.
I spent the rest of the night hanging out with a bunch of friends. We played a ridiculous video game called Typing of the Dead that dissolved into hilarious, horrible jokes.
Monday, July 8
Susan and I packed up; our other roommate left to catch her plane, and we checked out of the hotel. Since there were a few hours to go until our bus was due to leave, we hung out in the hall next to Crazy Mocha. A timely tweet brought Rondie over to us, and we sat and talked and committed all manner of silly shenanigans. Then it was time to go.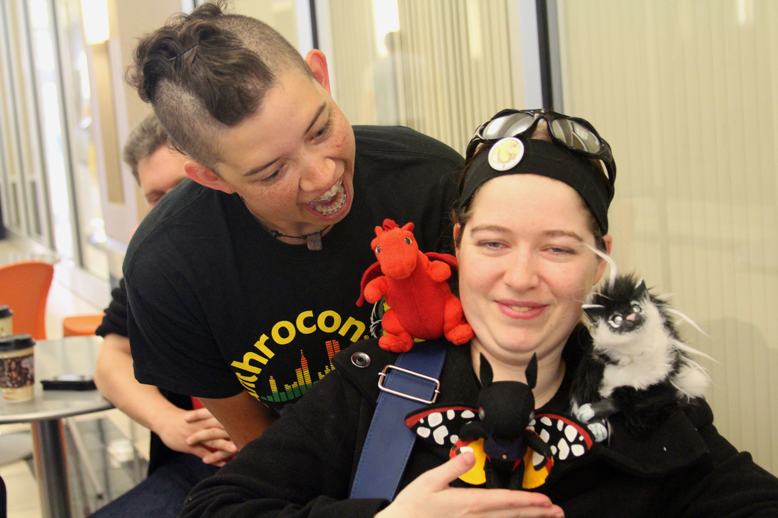 Rondie and Susan with Dafydd (the dragon), Amyntas (the moth), and Susan's new pet.
Bonus: Tuesday, July 9
I held Atlas moths at the Academy of Natural Sciences with Susan. The staff ogled my paintings. It was a good day.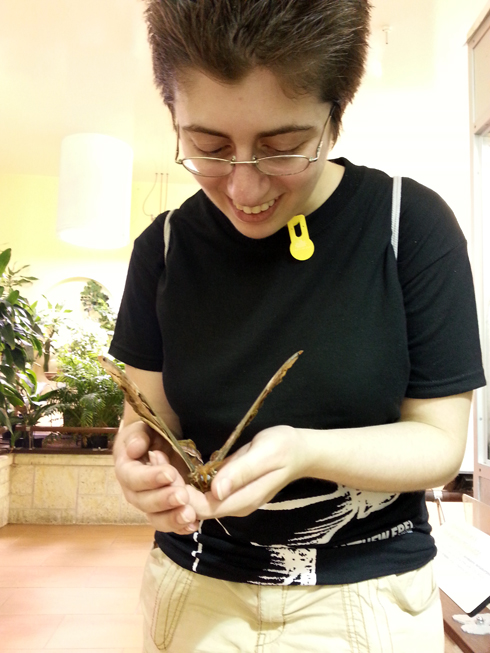 Eeeeeee.
All photos © 2013 Mary T. Capaldi unless otherwise noted.